Context
In the early 1980's, Theresa and Bill Armour shared the vision of bringing the

luxury experience

of a world-class resort spa to the city. What began as their vision has now become a thriving industry. Creating a brand that become synonymous with elegance and refinement. Three decades later, Burke Williams flourishes with ten locations across California, several new concepts in massage therapy, the Burke Williams Academy of

Massage Therapy

and the results oriented

skin care

line, H2V. This was a solo project with a duration of 2 weeks.
1. The challenge
Burke Williams day spa aims to combine an

exceptional service

with quality installations. Which is

not reflected

on the general image and functionality of the

e-commerce site

. Improvement opportunities are related to the vision of the company. That is to give not only remarkable experience but also a very comfortable one. I decided to keep track on the shopping experience. Focusing on the process of selecting and buying gift cards. This is a

solo redesign concept.
"In order to help new customers to choose a thoughtful gift for their loved ones, we need to simplify Burke Williams mobile site navigation flow,  and incorporate assistance on choosing a treatment"
2. The solution
Imagine for a moment that your name is

Jack

, and you have a

sister

. Her birthday is getting near, she lives in a different city and is 

mother of a baby and a toddler

. You think giving her a present of a relaxing massage would be a great idea and wonders what would be better for her. During lunch time you look on your phone to see available options and pick a

spa based on its reviews

. You start to check the spa website and try to

buy a gift card

, in the on-line store.
3. Research |Finding the right problem
I found that Burke Williams spa has several

types of users

, I was able to recognize these

general characteristics

for each of them.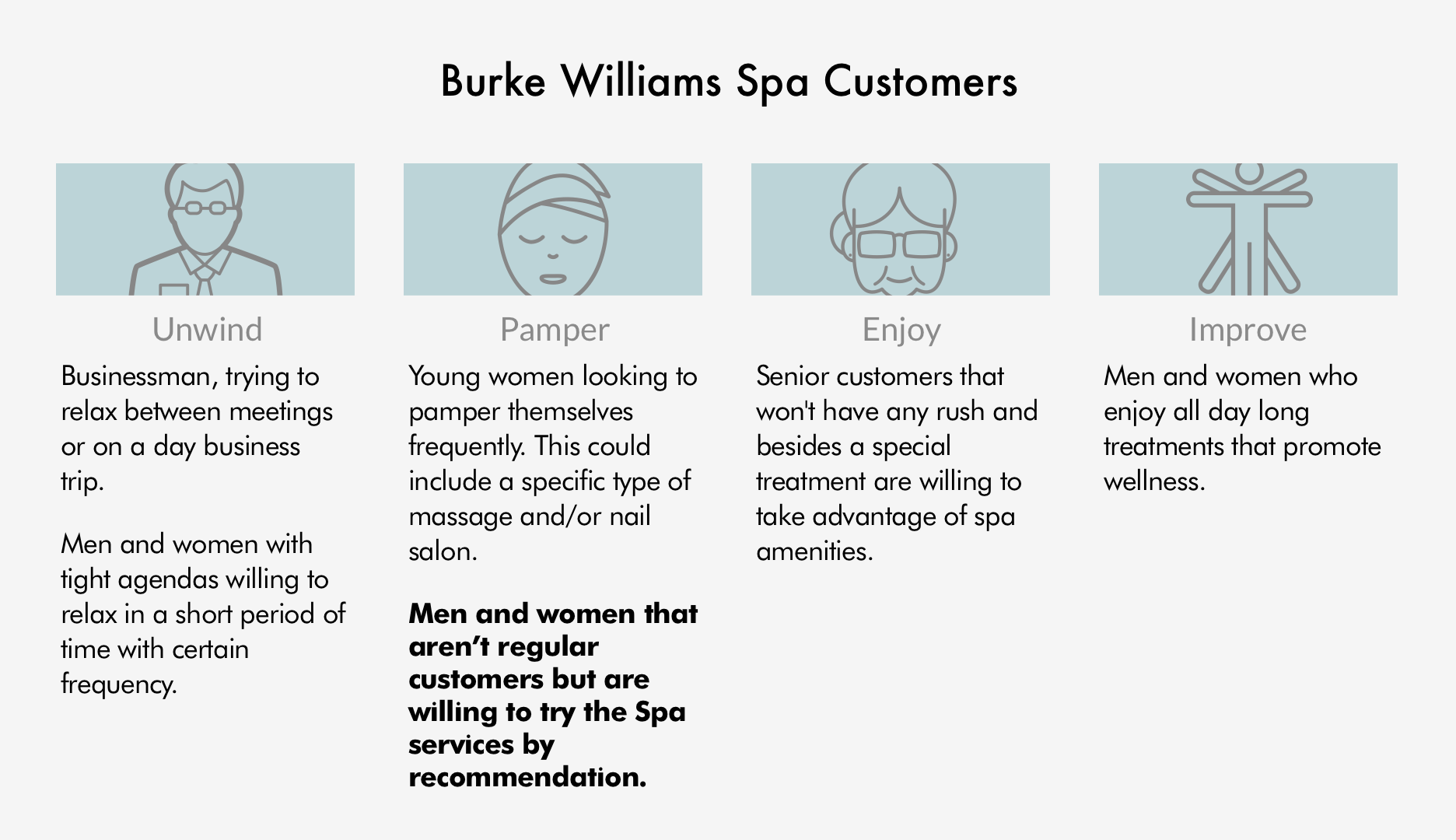 Due to the nature of Burke Williams business, most of clients listed above represent what we might call the

"regular" customers

of the spa. They assist with a certain frequency and they are familiar with the services and the kind of treatments offered. I decided to

focus on clients that are not the regular customers

 because they represent the bigger area of opportunity to acquire new customers.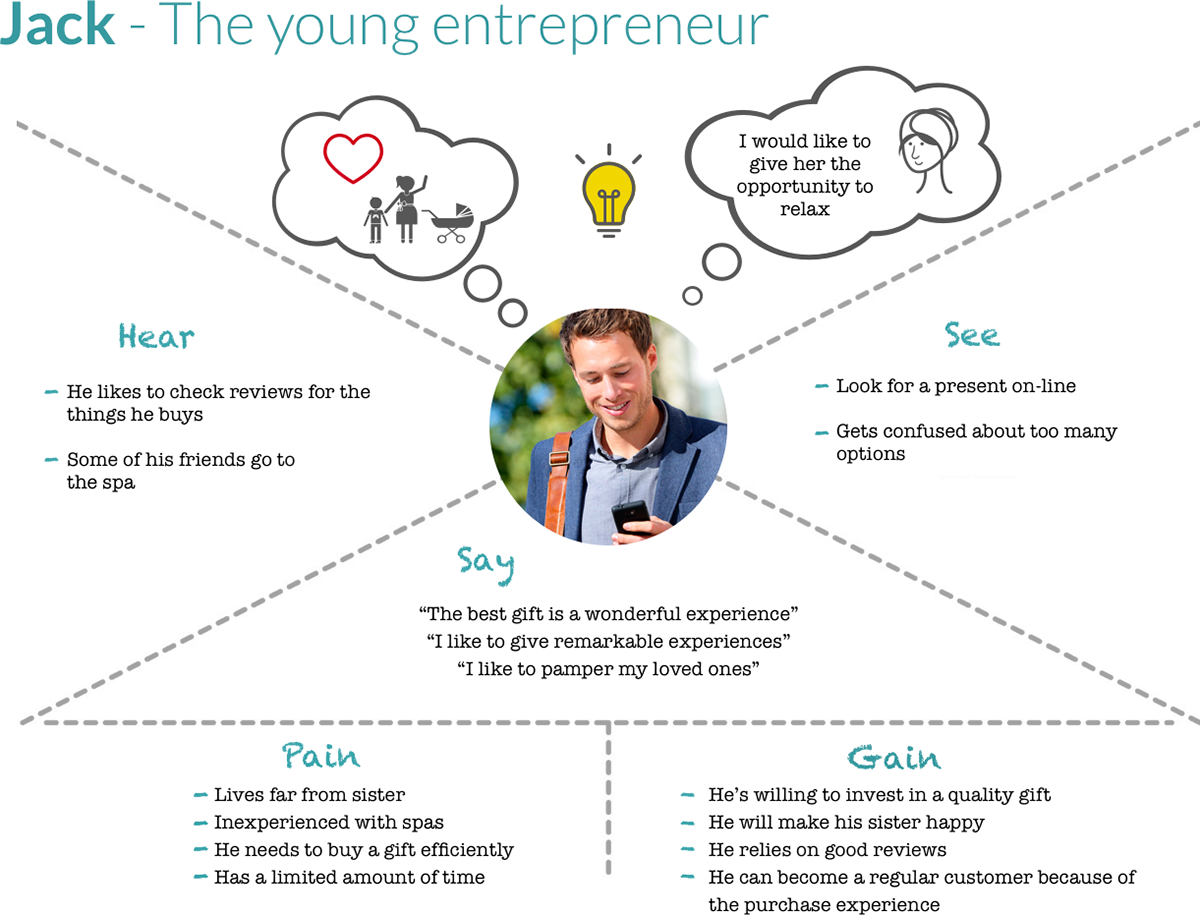 Heuristic evaluation highlights

Observations made on the responsive shop website

-The actual store navigation experience in the site is

very confusing

.
-The site lacks representing images
-There is

no clear way

for the user to know in which part of the site is currently on since all of it looks pretty much the same. 
-

Too much

text

can be discouraging and can provoke attention to be lost. Same as customers.
- Whenever trying to buy, there are

three different places for three different things

you would like. Booking a service, buying a gift card or purchasing products on the store.
- You

can't combine

the products from different sections in the same cart.
Proposed

navigation bar joins all services

in one store. If the desired user can buy more than one service or product without the need to buy from different places. This will have as a result only one cart with different options.

Simplified menus

offer an easier learning experience. Acquiring something at the shop was made easy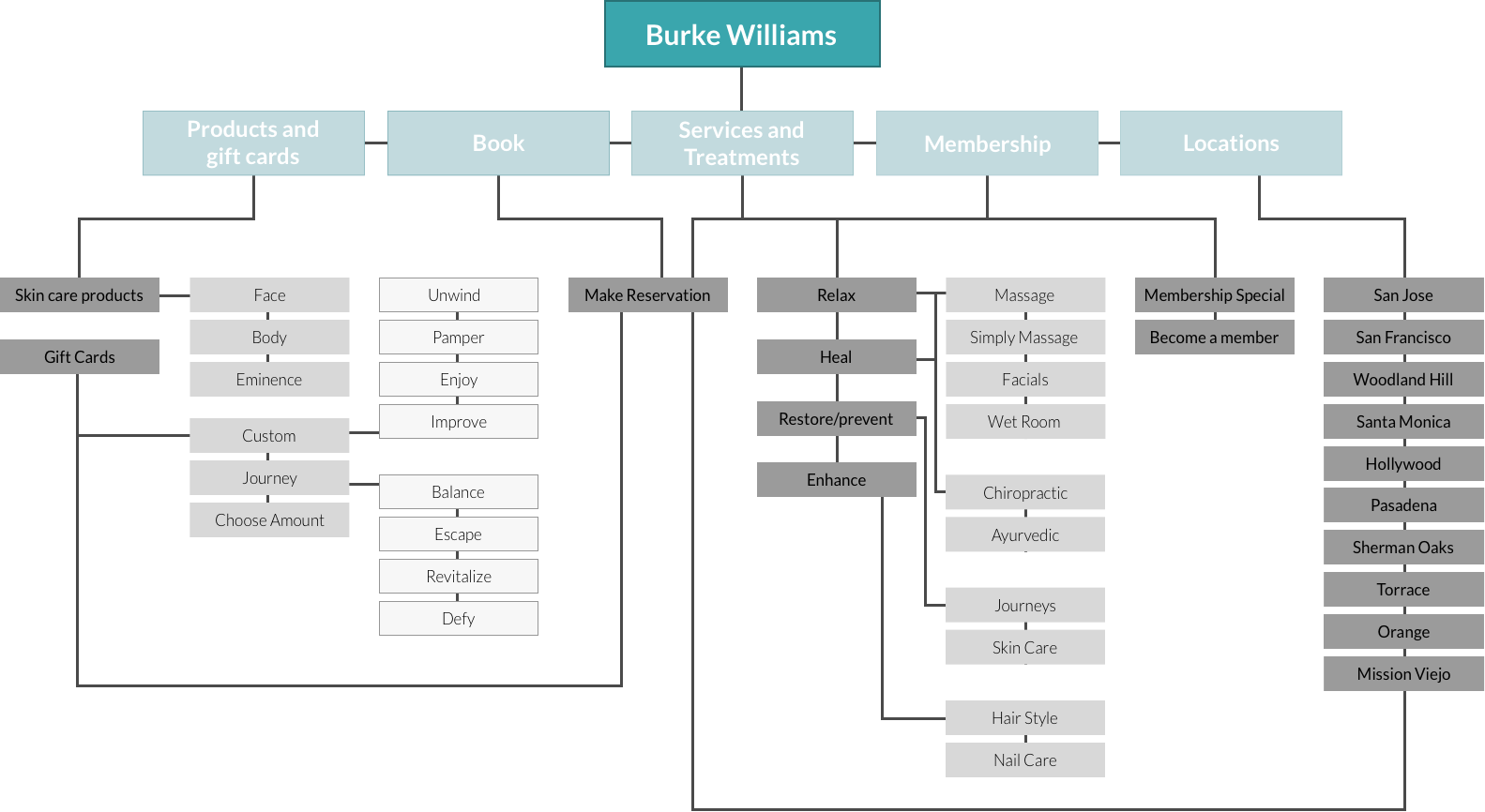 Focused only on the shopping experience for

purchase a custom gift card

, with the help of suggestions for a different type of users.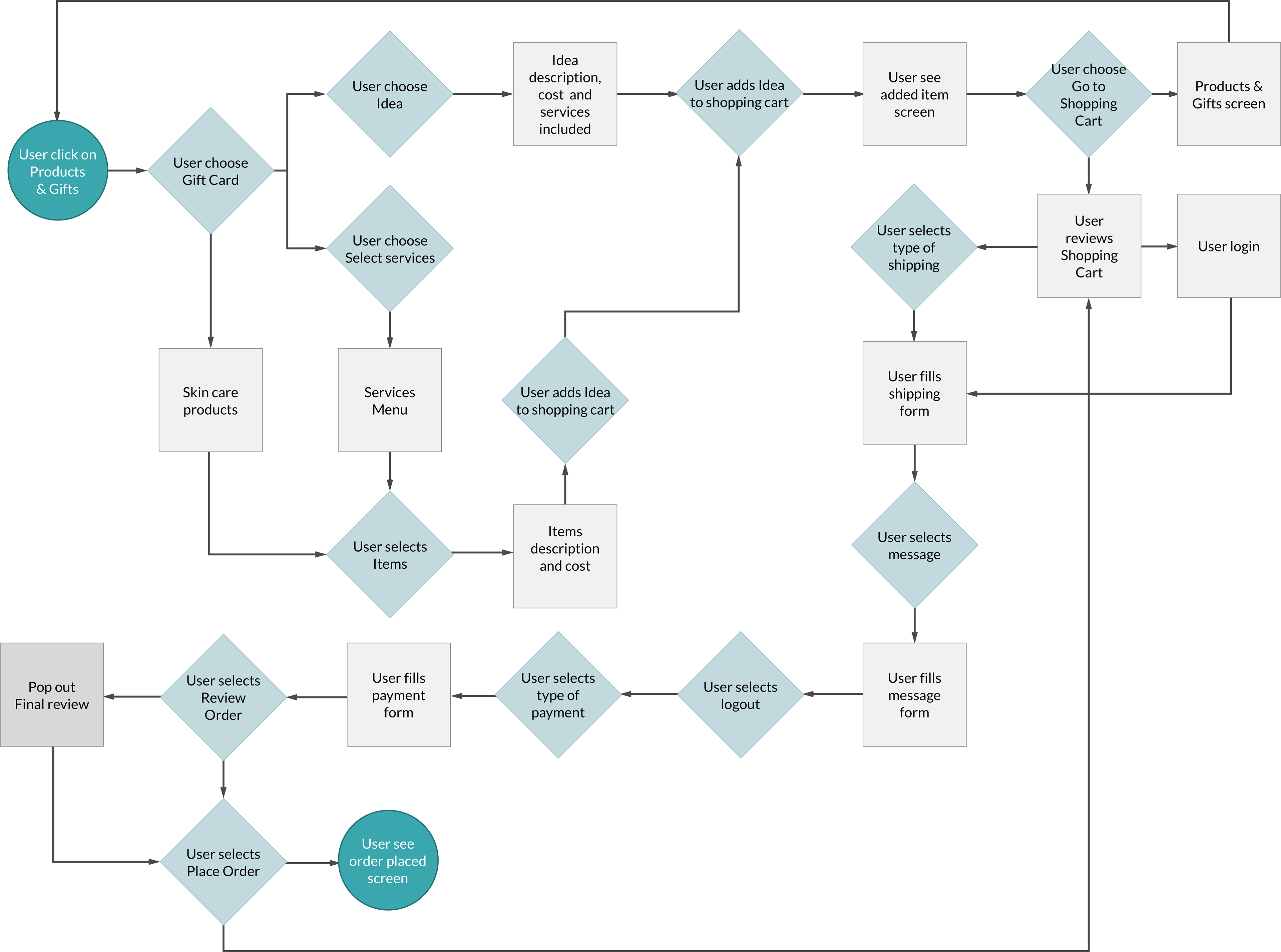 4. Next Steps
Based on the user testing and few ideas that appeared on the way
1.

Incorporate the Membership

option in the mobile store navigation
2. Add some details like light boxes while clicking on selections or make sliding down menus. The checkout section to have one screen without the need of scrolling down.
3. Incorporate

benefits on the mobile Online store

. Promote its use like the option of adding experiences to upgrade the Spa service, like romantic dinner, drives with Uber after and so.
4. Reflect the shopping prices on the mobile on-line store on the web browser site.
What I learned in this project
Even the most complicated problems can have an intuitive solution.