1. CONTEXT
Cleaning services

are commonly

distrusted

, a quality job is not always guaranteed. People are afraid of letting a

stranger

into their home. Almost all services need an appointment in advance. This results in an

unwanted wait

to get the job done.
This was a team project with a duration of 2 weeks. As a

project manager

, my role was to program and coordinate activities. Once the duration of the project was over, I decided to try

an iteration

on the original design. Which is the one I present below.
Help people have their

home cleaned

whenever they need it, while they are away. Offer a

reliable service

with a fast response
2. FINAL DESIGN
"Spotless Home" is an app designed to provide

on-demand

housekeeping in the Bay Area. Users can request an appointment on the same day and have the service done within a few hours.
- All service providers are

background checked

and tested.
- Housekeepers service is

rated

and classified.
- Housekeepers will only use environmentally friendly products.
- Pricing is based on

square footage

, beds and baths. This information        comes from public records as well as Zillow and Trulia databases.
Clickable Prototype - Gif of process
New user onboarding and scheduling a service.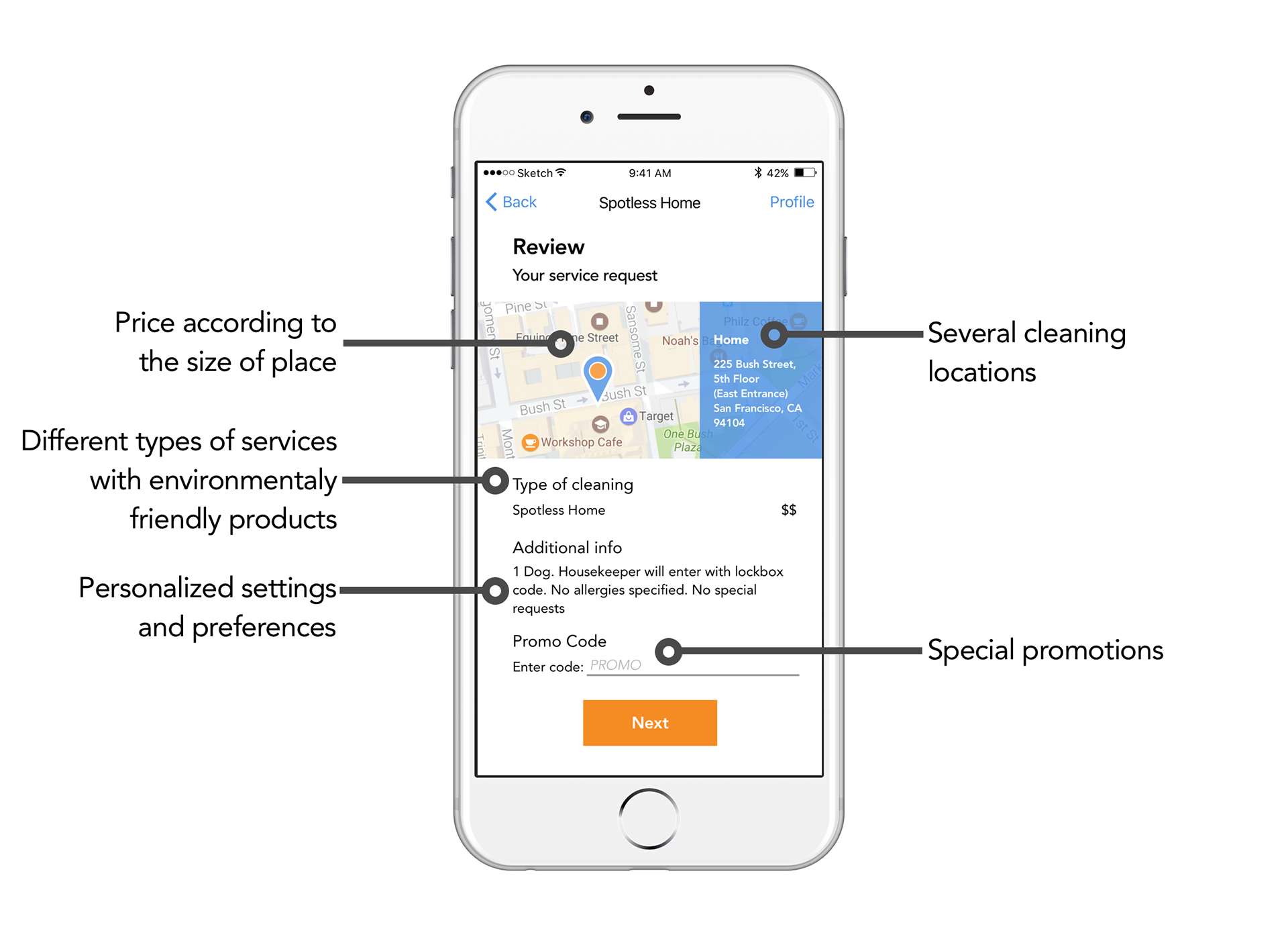 3. PROCESS
3.1 The research | Finding the right problem
Interview and survey highlights
To capture user needs and goals we conducted in person

interviews

as well as an online survey. We

also

interviewed

service providers

to understand their perspective.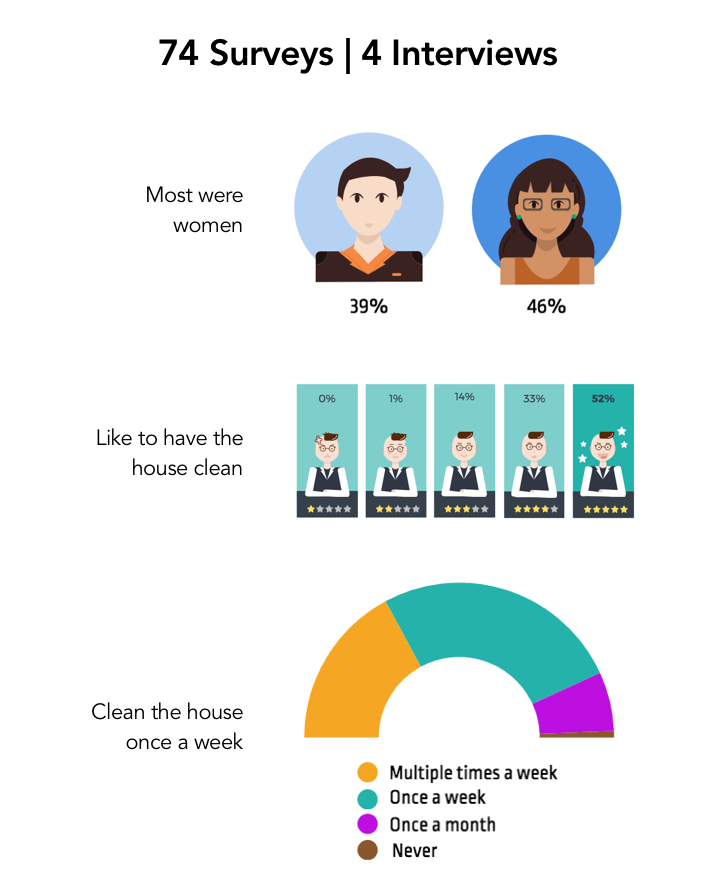 - More than a half clean their house at least

once a week

.
- Almost 40% of the interviewed clients are responsible for their  

own cleaning

. This is because most of them do not trust somebody else will do the cleaning as good as they perform it.
- Half of them have never used a cleaning service but are willing to try if it's a good one.
- Only a third uses cleaning services, they do it whenever it is not possible for them to clean. This means that it may not be on a

regular basis

 
Quotes from users who have hired a service
What do you think of cleaning services?
If it's well done is a great job, because the things look clean.
[Melanie R]  
By recommendation except for the last one who recommended herself.
[Joan L]  
What do you think can be improved?
Convenience. Clean the house where we are not inside, she comes on the weekends and that can be uncomfortable. To be "invisible".
 [Jon A]  
Want to make your house cleaning easier? Hire somebody to do it for you!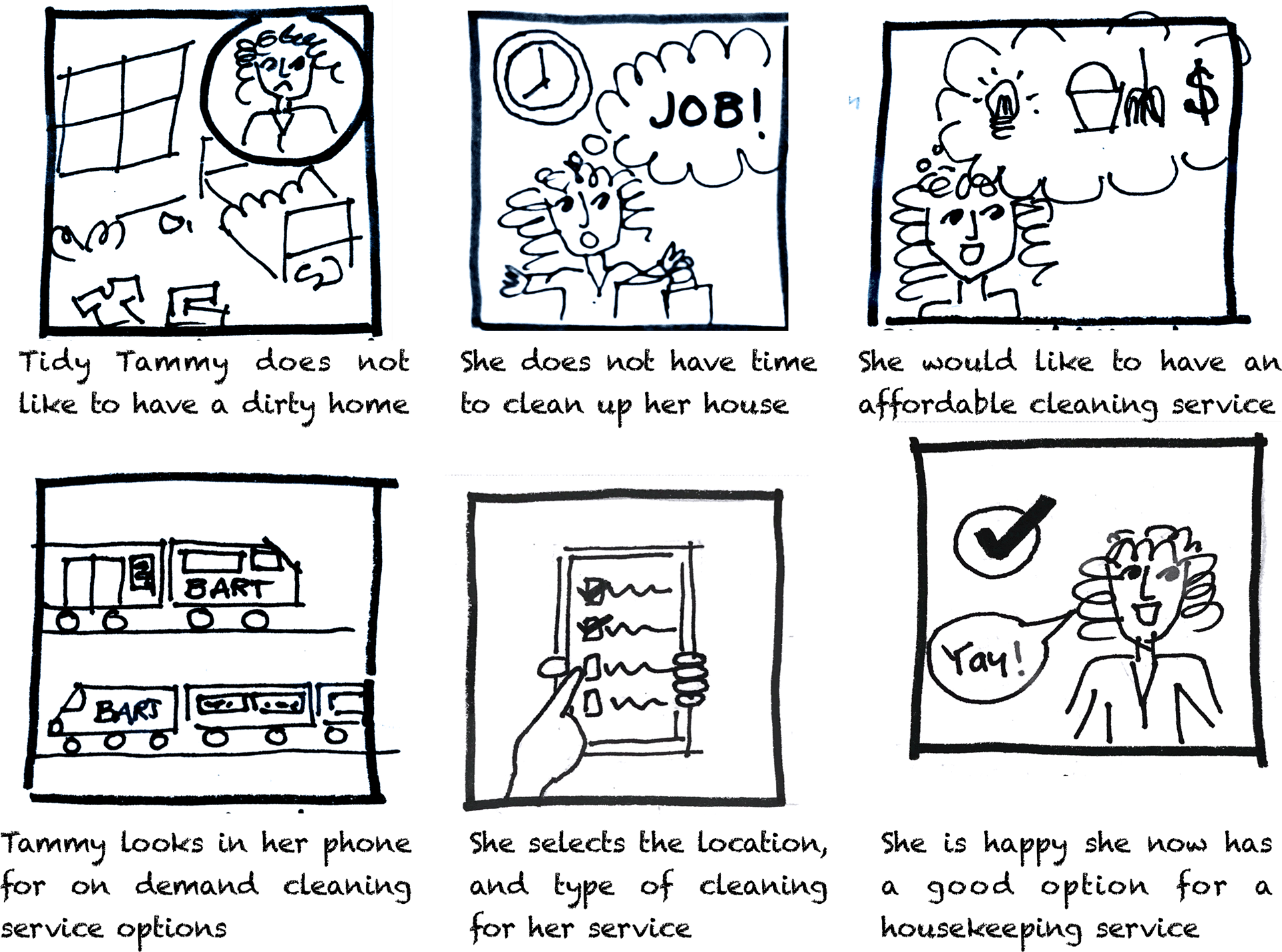 4. RETROSPECTIVE & LEARNINGS
-

Keep it simple, keep it clean

.  
- There is a long process behind an easy to use design.
- Too many features can cause confusion, too few will make the product feel  unfinished.
- Finding balance needs lots of tries and openness to see what can be improved.